We're starting a new series of riddles this week, with all of them having something to do with the weather.
This series begins today with six that all have lightning as their answer.
The first five of them are rhyming riddles (with the word lightning completing the fourth and fifth riddles where it's left blank), while the sixth asks your children What Am I?
To use that final idea, read the clue on the first line to your kids and ask them to take a guess at what they think the answer is. As the clue is that it's something on a rod but which isn't a fish, they might guess that it's some bait, a hook, a cat toy or something else.
If they don't work out that it's referring to a lightning rod, read them the second clue and ask them to take another guess. Keep doing this until they either work out that the answer is lightning or they run out of clues.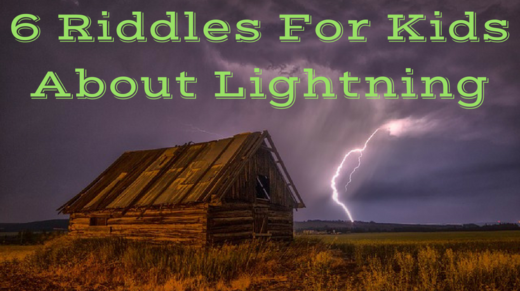 Lightning Riddles For Kids
If you see this striking Earth
A tree you don't want to be under
It's something that lights the sky
And is closely followed by thunder
~
When there is a really bad storm
In the sky this might be seen
In Cars, it's also the first name
Of the character McQueen
~
This is something you will see
When there is a thunderstorm
It can sometimes be a ball
And comes in forked or sheet form
~
Although it's seen during bad weather
This might be something that you like
As it can be cool watching the sky
Light up when there's a _ _ _ _ _ _ _ _ _ strike
~
When there's a thunderstorm going on
You will see the sky is brightening
Because of the electrical charge
Which causes a bolt of _ _ _ _ _ _ _ _ _
~
What Am I?
I can sometimes be seen on a rod but I'm not a fish
I can be forked but I'm not a tongue
I'm bright but I'm not the sun
I'm electric but I don't have any wires
I'm seen during a storm but I'm not a cloud