Our series of fruit riddles for kids continues today with five where the answer is a lemon. These therefore also go well with our other food riddles.
The first four of them rhyme;  if you use the second idea, you might need to explain to your kids that the answer is an anagram of 'melon.'
The fifth idea is a What Am I riddle. To use that one, read the clue that's on the first line to your children and ask them to guess the answer.
As that clue is that it's something that's yellow but which isn't a rubber duck, they might guess that it's a sunflower, a pepper or a banana.
If they don't guess that a lemon is the answer, read them the second clue and have them take another guess. Keep going until they either get the correct answer or they run out of clues.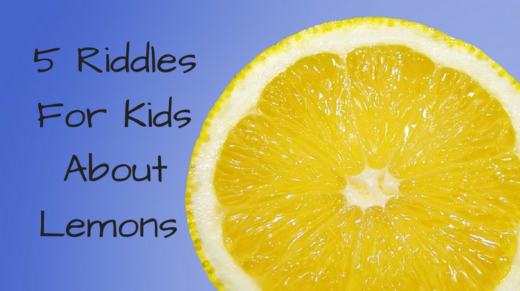 Lemon Riddles For Kids
This is something yellow
But it is not a light
It is a citrus fruit
That's a flavor in Sprite
~
I am a type of citrus fruit
Although I am not an orange
I am not a melon either
But 'melon' you should rearrange
~
This is a type of fruit
Whose shape is an oval
Its color is yellow
And it is fairly small
~
This riddle is about a fruit
It might be one that makes you think
It's said that when life gives you these
You should make something you can drink
~
What Am I?
I'm yellow but I'm not a rubber duck
I have seeds but I'm not a sunflower
I'm oval but I'm not an egg
I'm sour but I'm not a piece of candy
I'm a fruit but I'm not a banana