We're continuing our series of riddles for kids about household items with five today where the answer is a knife.
The first four of these rhyme, while the fifth is a What Am I riddle. To use that final idea, read the clue that's on the first line to your children and ask them to take a guess at the answer.
The clue is that it has a handle but isn't a car door, so they might guess that it's a bedroom door, purse, bucket or briefcase.
If they don't guess that a knife is the answer, read them the clue on the second line and have them guess again. Keep doing this until they either guess correctly that the answer is a knife or they run out of clues.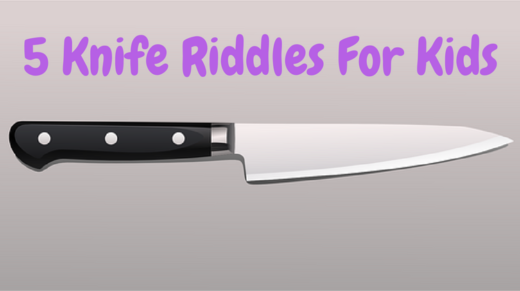 Knife Riddles For Kids
Because this item is sharp
You shouldn't give it a lickin'
You use it to cut up food
And sometimes to carve a chicken
~
I'm something in your kitchen
Although I am not a cup
I'm a piece of silverware
Used to cut all your food up
~
There is one that's made for pockets
And one that's especially for steaks
There's one to spread peanut butter
And a large one to cut wedding cakes
~
If you open a kitchen drawer
This is something that you might see
Smaller ones are used to cut your food
And larger ones to carve turkey
~
What Am I?
I have a handle but I'm not a car door
I'm found in a kitchen but I'm not a cupboard door
I sometimes spread things but I'm not a sneeze
I'm used to cut things but I'm not a pair of scissors
I have a blade but I'm not grass