We're starting a new series of riddles for kids today, with all of these being different types of fruit. We're starting off the series today with five that all have kiwi fruit as the answer.
The first four of them rhyme, with the fifth being a What Am I riddle.
To use that fifth idea, read the first clue to your children and ask them to guess what they think the answer is. As the clue is that it's similar in size to a large egg but isn't a pebble, they might guess that it's a paperweight, a hamster or a tomato.
If they don't guess that the answer is a kiwi fruit, read them the second clue and ask them to guess again. Keep going until they either realize that kiwi fruit is the answer or they run out of clues.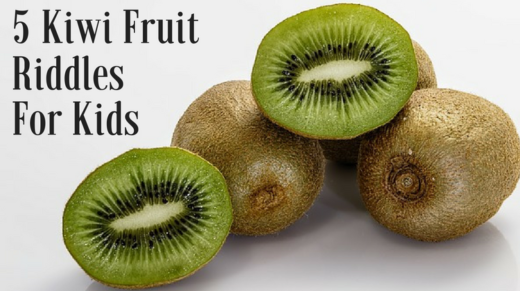 Kiwi Fruit Riddles For Kids
This is a type of small fruit
Which is smaller than your hand
Fuzzy outside, green inside
Often comes from New Zealand
~
This is a type of small fruit
Which is fuzzy on the outside
Cut it open and it's green
With small black seeds on the inside
~
I am the same size as a large egg
And also a similar shape
I'm a fruit fuzzy on the outside
I'm green inside, I'm not a grape
~
This isn't a common fruit
But might be one of which you've heard
It's fuzzy on the outside
And has the same name as a bird
~
What Am I?
I'm similar in size to a large egg but I'm not a pebble
I'm fuzzy but I'm not a stuffed toy
I'm green on the inside but I'm not a lawnmower that's just been used
I have the same name as a type of bird but I'm not a crane
I'm a fruit but I'm not a grape