We're currently publishing a series of riddles for kids about things you can find around the house.
We're focusing on the kitchen at the moment, with today's batch specifically having the kitchen as the answer, meaning these also go well with our other riddles about rooms in a house.
The first five of these are rhyming riddles, while the sixth asks your kids What Am I?
To use that last idea, read the clue that's on the first line to your children and have them try to guess what it is that's being described. As that first clue is that it's something that's found in a restaurant but which isn't a menu, they might guess that it's a table, a chair, a chef or some silverware.
If they don't guess that the answer is a kitchen, read them the second clue and ask them to take another guess. Keep doing this until they either guess that a kitchen is the answer or they run out of clues.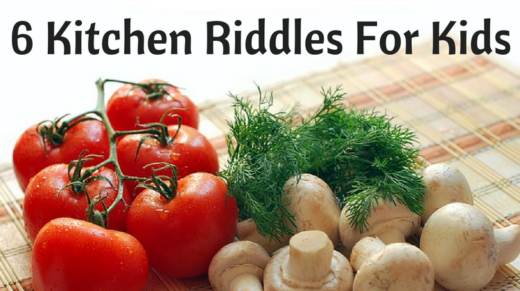 Kitchen Riddles For Kids
If you like to cook food
Then this room will be your fave
As it has an oven
A stovetop and microwave
~
Everyone has one in their house
As you can make food in this room
You use a mop to clean its floor
Rather than using a vacuum
~
This riddle is about a room
But it won't really make you think
It's the one with a dishwasher
A fridge-freezer, oven and sink
~
When you are feeling hungry
And popcorn's what you crave
What room would you make it in
That has a microwave?
~
This room is important
I think that you'd agree
As there's a fridge-freezer
And maybe a pantry
~
What Am I?
I'm found in a restaurant but I'm not a menu
I have several knives but I'm not a chef
I have lots of food but I'm not a picnic basket
I sometimes have an island but I'm not an ocean
I'm a room in a house but I don't have a bed