Our series of household item riddles continues today with a set of riddles for kids that all have a key as their answer.
The first five of these are rhyming riddles, while the sixth is a one line riddle that has a rhyme internally.
The seventh idea is a What Am I riddle. To use that one, read the clue that's on the first line to your kids and ask them to try guessing what they think it is that's being described. As the clue is that it's something that gets cut but doesn't bleed, they might guess that it's a vegetable, a piece of fruit or their hair.
If they don't guess that the correct answer is a key, read them the clue that's on the second line and have them try guessing again. Keep doing this until they either guess that a key is the answer or they run out of clues.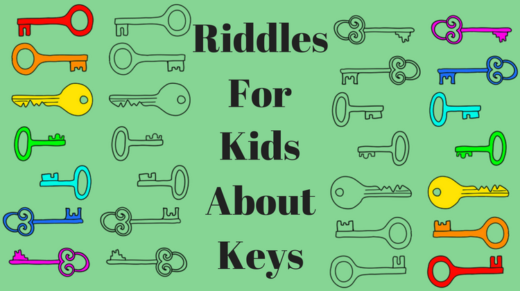 Key Riddles For Kids
Sometimes to get inside a door
All you need to do is knock
Other times you will need this thing
So the door you can unlock
~
Although I'm not a diamond
I get put on a ring
When it is time to use me
A lock is opening
~
When you have to unlock something
But a code isn't what you need
You need this thing that's on a ring
Which has been cut but doesn't bleed
~
I am something used with a door
But I'm not a Christmas wreath
Instead I am kept on a ring
I get turned and I have teeth
~
If you come up to a door
And you find your entry's blocked
Push this in a hole and turn
So the door can be unlocked
~
To open a door you can knock or use this item to unlock
~
What Am I?
I get cut but I never bleed
I have teeth but I don't bite
I get put on a ring but I'm not a diamond
I get turned but I'm not a page
I get put in a lock but I'm not a wrestler