For the next few sets of riddles, we're going to be focusing on different types of metal. Today, all of these riddles for kids have iron as the answer.
Although the theme is metal, some of these ideas can also be used with our chemistry or household item riddles.
The first three of these rhyme, with the fourth being a What Am I riddle. To use that last idea, read the clue on the first line to your children and have them take a guess at what they think the answer is.
As the clue is that it's something which can be used to hit a ball but which isn't a tennis racket, they might guess that it's a foot, a baseball bat or a golf club. (n.b. Although the final answer of a golf club is sort of true – an iron is a type of golf club – that's not the correct answer.)
If they don't give iron as the answer, read them the clue on the second line and have them guess again. Keep doing this until they either give the answer 'iron' or they run out of clues.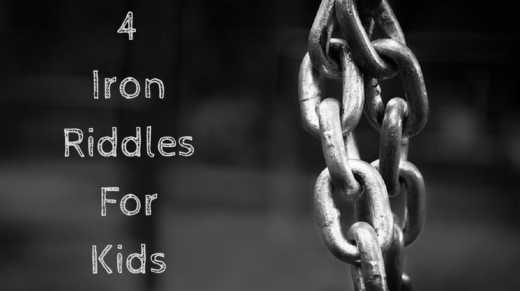 Iron Riddles For Kids
This can be used to flatten clothes
Or in golf to hit a ball
This goes before a movie Man
And is a type of metal
~
If you dropped this on your foot
You would find it really hurts
It's usually heated up
And is used to flatten shirts
~
This is a common type of metal
With the chemical symbol Fe
When mixed with oxygen and water
You will find that it can get rusty
~
What Am I?
I can be used to hit a ball but I'm not a tennis racket
I come before Man to make a superhero but I'm not a spider
I'm put on shirts but I'm not a necktie
I'm a metal but I'm not gold
I can get rusty but I'm not the Tinman in The Wizard Of Oz