Here are five riddles for kids where the answer is a chair. These are therefore perfect for using with many of our other riddle themes such as household items and pieces of furniture.
The first four of these are rhyming riddles, with the word 'chair' completing the rhyme of the fourth.
The fifth riddle asks your kids What Am I? To use that idea, read the clue that's on the first line to your children and ask them to guess what they think the answer might be. As the clue is that it's something that has four legs but which isn't a dog, they might guess that it's a cat, a horse or a table.
If they don't guess that a chair is the answer, read them the clue that's on the second line and ask them to guess again. Keep doing this until they either guess that the answer is a chair or they run out of clues.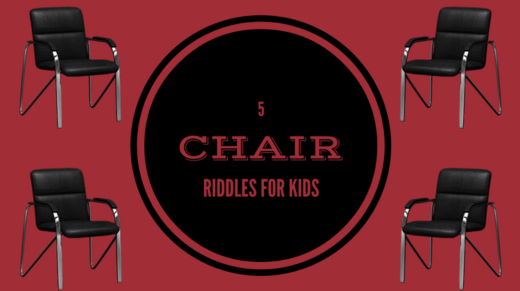 Chair Riddles For Kids
This is a piece of furniture
Often made of wood or plastic
It is somewhere that you can sit
But don't use one that's electric
~
This might have a back and legs
But never has an armpit
But it can come after arm
For something on which you'd sit
~
I am a piece of furniture
At a table I'm often found
When I'm there then I have four legs
But at a desk I swivel round
~
This thing has a back and legs
But doesn't have any hair
It's something on which you sit
Which means that it is a _ _ _ _ _
~
What Am I?
I have four legs but I'm not a dog
I have a back but I'm not a camel
I sometimes have arms but I don't have any hands
I can be sat on but I'm not a horse
I'm a piece of furniture but I'm not a bookcase