Our series of animal riddles for kids is continuing today with ten of them that all have 'horse' as their answer.
This also means that these can be used with many of our other riddle themes such as sports, transport, farm and nature.
The first eight of these rhyme – with the fourth one, the word horse completes the rhyme. There's also a one line riddle and a set of What Am I? questions.
With that final idea, read the first line to your children and ask them to guess the answer. The clue about four legs might mean they guess a table, chair or any number of different animals.
If they don't guess that it's a horse, read them the clue on the second line and have them guess again. Continue doing this until they either guess correctly that you're describing a horse or they run out of clues.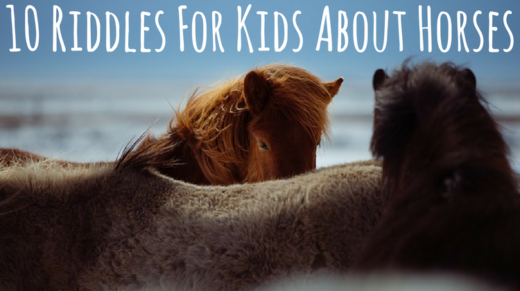 Horse Riddles For Kids
I am a type of animal
Some say that I have a long face
I'm very good at running fast
So people ride me in a race
~
A stallion's a male
A female is called a mare
You can ride on one of these
On a carousel at a fair
~
On the head and neck of these creatures
You will see that they have quite long manes
It's best not to hold on to those though
Instead you should hold on to their reins
~
I am a tall animal
I run with a lot of force
I also canter or trot
You can ride me – I'm a _ _ _ _ _
~
When you startle one of these
Off it gallops like a shot
Once this animal's slowed down
It will then canter or trot
~
You might sometimes see this animal
With a jockey riding on its back
Trying to run as fast as it can
While going round and round a track
~
Before there were cars and trains
This was how people got around
They'd get up on a saddle
Take its reins and then hooves would pound
~
I might be found on a farm
But I'm not known as swine
I run round in a field
And I'm known as equine
~
If you live next door to this animal, it'll hopefully be a good neigh-bor
~
What Am I?
I have four legs but I'm not a dog
I can run fast but I'm not a cheetah
I like carrots but I'm not a rabbit
I have a mane but I'm not a lion
I can be ridden but I'm not a motorcycle