Here are six riddles for kids where the answer is honey, so these are perfect for using with our other food and nature riddles.
The first four of these are rhyming riddles, with the word 'honey' completing the rhyme of the fourth, while the fifth is a one line riddle that also contains a rhyme.
The sixth idea is a What Am I riddle. To use that final one, read the clue that's on the first line to your kids and ask them to try guessing the answer. As the clue is that it's something that's a liquid but which isn't water, they might guess that it's dishwashing liquid, soda or orange juice.
If they don't guess that honey is the answer, read them the second clue and have them guess again. Keep going until they either realize that the correct answer is honey or they run out of clues.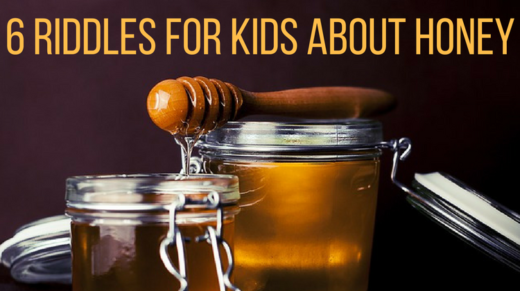 Honey Riddles For Kids
I'm something that is sticky
I'm something that is sweet
I'm made by more than one bee
I'm something that you eat
~
This sometimes comes in a jar
It comes in a bottle too
And when it comes in a pot
You might see Winnie-the-Pooh
~
This word comes before mustard
And also before barbecue
It's the favorite type of food
Of a bear called Winnie-the-Pooh
~
This is something that is sweet
And it is very runny
It is found in a beehive
Which means that it is _ _ _ _ _
~
I'm made by a bee, I'm very sticky
~
What Am I?
I'm a liquid but I'm not water
I'm sticky but I'm not glue
I'm sweet but I'm not melted chocolate
I'm found in a comb but I'm not hair
I'm created by an insect but I'm not a web