Here are several different types of riddles for kids where the answer is 'Holly'.
These are therefore great for using with many of our other riddle themes like:
The first few of these rhyme; with the third one, the word 'Holly' completes the riddle.
The fourth one is a one line riddle and the final option is a What Am I riddle.
With the What Am I idea, read the first line to your kids and get them to guess what they think the answer is.
If they don't guess correctly, read them the second clue and get them to guess again. Keep going until they either get the correct answer or run out of clues.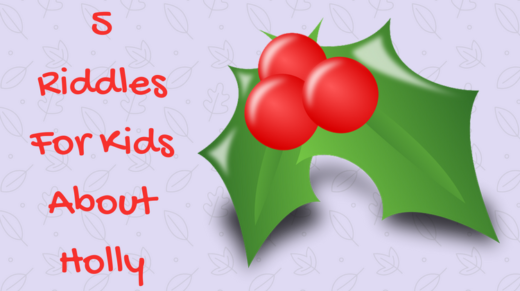 Holly Riddles For Kids
Prick yourself at Christmas
This leaf might be to blame
It has the same title
As a certain girl's name
~
If you gather a lot of this
Your Christmas wreath should look grand
Be careful how you hold it though
As the prickles may hurt your hand
~
If you want to pick up this leaf
Holding tightly might be folly
Because it's easy to get pricked
When you touch a piece of _ _ _ _ _
~
This girl with a name like a winter plant might be a little prickly
~
What Am I?
I'm green but I'm not a pea
I'm seen at Christmas but I'm not a Christmas tree
I have the same name as a girl but I'm not an iris
I'm prickly but I'm not a cactus
I'm part of a Christmas carol's name but I'm not ivy