We started a new series last week with a back-to-school theme, so we're continuing that today with a set that all have 'hole punch' as the answer.
The first three of these are rhyming riddles for kids, with the words 'hole punch' completing the rhyme of the second one.
The fourth and final one is a What Am I? riddle. With this one, read the first line to your children and get them to take a guess at what's being described.
There are all sorts of items which are made of metal and plastic, so there's a good chance that they won't guess the correct answer. If that's the case, read them the clue on the second line and get them to guess again, taking into account this additional information.
Keep doing this until they either give hole punch as the correct answer or they run out of clues.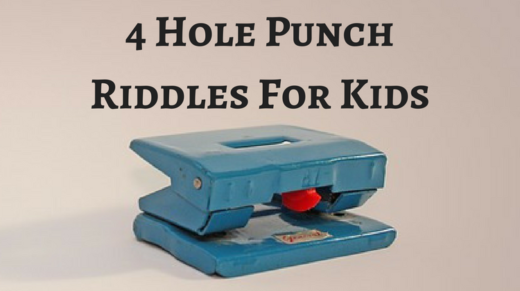 Hole Punch Riddles For Kids
My name sounds as though I like to fight
But you will actually find I'm kinder
Because I help with your paperwork
By ensuring it goes in a binder
~
If you need to file away paper
Then this item will help you a whole bunch
As it will make circles in each page
So it fits in binders – it's a  _ _ _ _     _ _ _ _ _
~
If you have lots of paper
And need to keep it neat
Then use this to make the holes
So binders can hold each sheet
~
What Am I?
I'm made of metal and plastic but I'm not a food blender
I get pressed down on but I'm not a button
I might be found on a desk but I'm not a stapler
I cut out circles but I'm not a pair of scissors
I have paper put in me but I'm not a binder