We're continuing our series of transport riddles today with four where the answer is a helicopter.
The first three of these rhyme, while the fourth is a What Am I riddle.
To use that final idea, read the clue on the first line to your kids and ask them to take a guess at what they think the answer would be. As the clue is that it's something with blades but which isn't grass, there's a good chance that they'll guess that the answer is a razor or a knife.
If they don't guess correctly, read them the clue on the second line and ask them to take another guess. Keep doing this until they either guess that a helicopter is the answer or they run out of clues.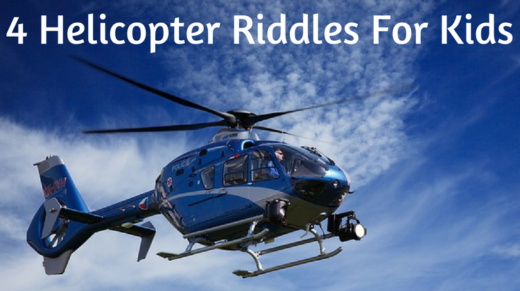 Helicopter Riddles For Kids
I'm a certain type of transport
That can hover in the air
I don't need runways to take off
Instead I just use a square
~
This is a special kind of transport
Sometimes used in an emergency
As they're able to fly and hover
And help rescue people lost at sea
~
This aircraft helps news teams
Present traffic reports
It can take off and land
From special heliports
~
What Am I?
I have blades but I'm not grass
I'm sometimes an Apache but I'm not a Native American
I can fly but I don't have any wings
I can transport people but I'm not an airplane
I'm a chopper but I'm not a knife