We're continuing our series of fruit riddles today with a few where the answer is a grape.
The first couple of them rhyme, while the third one is a What Am I riddle.
To use that final idea, read the first line of it to your kids and ask them to take a guess at what they think the answer would be.
As the clue is that it's something round which isn't a ball, they might guess that it's a wheel, a tomato, a clock, a dartboard or any number of other round objects.
If they don't guess that a grape is the answer, read them the clue on the second line and ask them to take another guess. Keep going until they either guess that the correct answer is a grape or they run out of clues.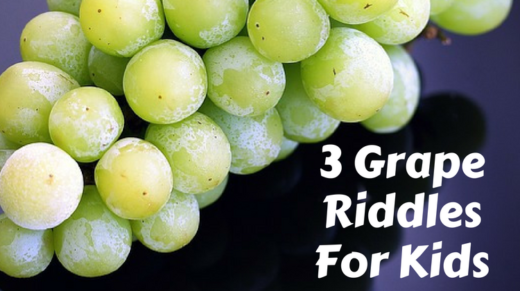 Grape Riddles For Kids
I can be red or green
I get grown on a vine
I'm dried to make raisins
Or squeezed to help make wine
~
This is a type of fruit
That you might eat at lunch
It's small and it is round
And it comes in a bunch
~
What Am I?
I'm round but I'm not a ball
I'm a fruit but I'm not a grapefruit
I can be seedless but I'm not an orange
I can be red or green but I'm not an apple
I come in a bunch but I'm not a banana