Our series of both household item and kitchen riddles for kids continues today with seven that all have a freezer as the answer.
The first six of these rhyme, with the word 'freezer' completing the rhyme of the sixth riddle.
The seventh is a What Am I riddle. To use that one, read the first line to your children and ask them to guess the answer.
As the clue is that it sometimes contains ice but isn't something you drink, they might guess that it's a lake in the winter, an ice rink or something else.
If they don't guess that the answer is a freezer, read them the second clue and ask them to take another guess now that they have some additional information. Keep doing this until they either guess that a freezer is the answer or they run out of clues.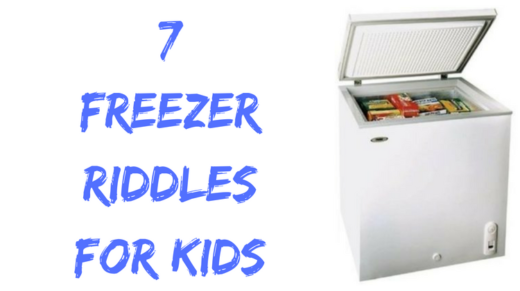 Freezer Riddles For Kids
To store food for a long time
This appliance might be chosen
Because it can keep food fresh
By making sure it stays frozen
~
If you want to store some food
This can help to keep it nice
It will often contain fries
Pizza, peas as well as ice
~
I'm a kitchen appliance
But I do not give off steam
Because I am very cold
I am where you keep ice cream
~
When you open its door
Then on will come its light
But it is not a fridge
It's zero fahrenheit
~
I am something very cold
That should come as no surprise
As I am where food is kept
Such as garlic toast and fries
~
This is in your kitchen
It's where your peas are
Maybe some pizza too
It is a _ _ _ _ _ _ _
~
What Am I?
I sometimes contain ice but I'm not something you drink
I have a door but I'm not an igloo
I'm in your kitchen but I'm not a glass
I contain food but I'm not a refrigerator
I'm very cold but I don't have to wear a coat