On this page there are many riddles for kids where the answer is 'Frankenstein's Monster'.
These are ideal for Halloween activities and scary monster games, or could be used as part of a quiz looking at characters from books.
Most of these are rhyming riddles but there's also one which has several 'What Am I?' questions. These clues can be given to kids one at a time to see how many they need in order to work out the answer.
Beneath these riddles are some Frankenstein-themed party invitations, candy bowls, costumes and toys – just click on the images to take a look at them on Zazzle and Amazon.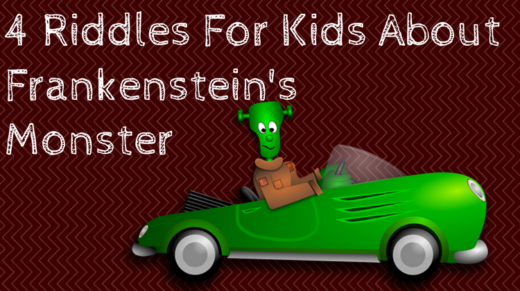 Frankenstein's Monster Riddles
I'm about 8 feet tall
And have bolts in my neck
I have powerful rage
Better keep me in check
~
I was created very strangely
From parts of different people's bodies
Everyone thinks I look scary though
My yellow skin makes them scream and freeze
~
Made out of different body parts
Brought to life by electricity
Bolts in my neck and yellowish skin
Why can't people show me some pity
~
What Am I?
I was created by a scientific experiment but I'm not a drug
I have yellow skin but I'm not a banana
I have bolts but I'm not lightning
I'm brought to life by electricity but I'm not a light bulb
I'm 8 feet tall but I'm not a basketball player
Frankenstein Goodies
Here are some different Frankenstein goodies that could be used for a party or as prizes for kids: