We're starting a new series of riddles for kids this week, with each set being about a different country – our first batch today is all about France.
These will therefore also work well if you're planning any activities about geography or teaching any lessons about world awareness.
There are five riddles here that have France as the answer. The first four of them rhyme (the word France completes the rhyme of the first riddle), while the fifth asks your kids What Am I?
To use that last idea, read the first line to your children and ask them to guess the answer. Although the clue lets them know that the answer is a country, it's unlikely that they'll randomly guess the correct answer.
If they do indeed guess incorrectly, read them the clue on the second line and ask them to guess again. Keep doing this until they either realize that the answer is France or they run out of clues.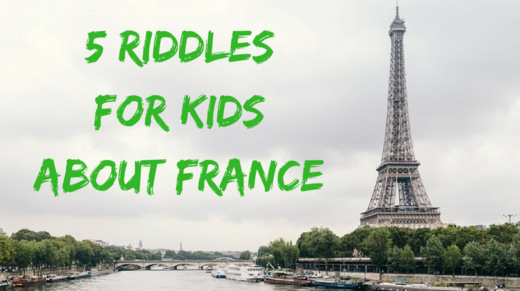 France Riddles For Kids
In Burgundy they drink wine
In Paris you might dance
Cannes has a film festival
The country is called _ _ _ _ _ _
~
In which European country
Might you eat cheese and baguette
And have "la chat" or "le chien"
If you owned a household pet?
~
I am a country in Europe
Where you can climb the Eiffel Tower
They had many kings called Louis
And Napoleon once had power
~
Champagne comes from this place
And they make cheese called Brie
Their capital's Paris
But what is the country?
~
What Am I?
I'm a country but I'm not Iceland
I have red, white and blue on my flag but I'm not the USA
I'm in Europe but I'm not the UK
I have a famous tower but I'm not Italy
I have my language spoken in many countries around the world but I'm not Spain