For the last few weeks we've been publishing a series of animal riddles for kids, a theme we're continuing today with several that have 'fish' as the answer.
These can therefore also be matched with some of our other themes like nature and food.
There are six of them in total – the first five are rhyming ones, while the sixth is a What Am I? riddle.
To use that last one, read the first line of it to your kids and ask them to guess what they think it is that you're describing.
If they're not correct, read the second line to them and ask them to guess again. Continue with this until they either work out that the answer is fish or they run out of clues.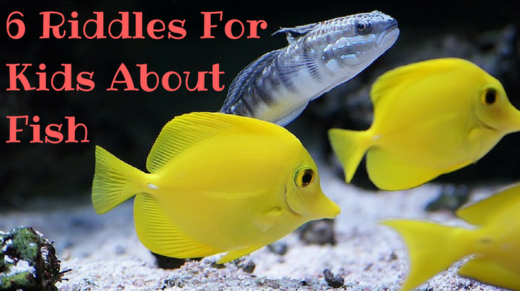 Fish Riddles For Kids
If you go out on a boat
And stay there until it's late
What is it that you might catch
With a rod, hook and some bait?
~
If you travel over to England
At dinner time this might pass your lips
It usually swims in the water
And is something that they serve with chips
~
Cod, carp, herring and salmon
Flounder, trout and anchovies
Sole, red snapper and tuna
What types of creatures are these?
~
There is a group of people on a boat
Who use nets to catch this creature en masse
One type is tuna, one type is haddock
One type is red snapper, one type is bass
~
This is a certain type of food
That you might eat as your main course
It is not beef, chicken or pork
But can be served with tartar sauce
~
What Am I?
I'm sometimes seen on a hook but I'm not a coat
I have a tail but I'm not a dog
I have scales but I don't weigh things
I can be eaten with chips but I'm not salsa
I can be caught in a net but I'm not a butterfly
I live in water but I'm not a frog