Our series of household item riddles continues today with five where the answer is a fan.
The first four of these rhyme, while the fifth one asks your kids What Am I? To use that final idea, read the first line to your children and ask them to take a guess at the answer.
As the clue is that it's something that has blades but which isn't a fan, they might guess that it's a knife, a helicopter or a razor.
If they don't guess that a fan is the correct answer, read them the clue on the second line and have them take another guess. Keep doing this until they either work out that the answer is a fan or they run out of clues.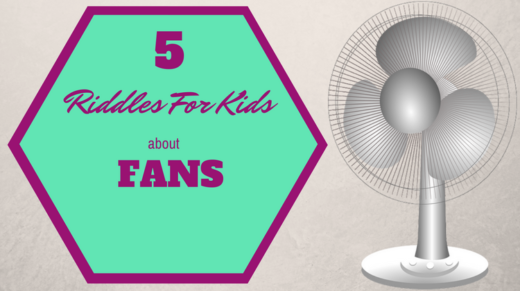 Fan Riddles For Kids
When the temperature gets high
And hot is what you're feeling
Something that helps cool you down
Rotates up on the ceiling
~
When held I go from side to side
When freestanding I oscillate
And when I am on a ceiling
That's when you will see me rotate
~
I am something that spins round
But I am not a curveball
I sometimes sit on a desk
And I help to keep you cool
~
You might have one in your house
Although unlikely on a shelf
When it's hot then it rotates
As you use it to cool yourself
~
What Am I?
I have blades but I'm not grass
I'm sometimes held in your hand but I'm not a razor
I can change speeds but I'm not a car
I spin but I'm not a washing machine
I help cool you down but I'm not air conditioning