Here are eight riddles for kids where the answer is an eye, so they're perfect for using with our other anatomy and human body riddles.
The first six of these are rhyming riddles, while the seventh is a one line riddle which also rhymes.
The eighth riddle asks your kids the question What Am I? To use that What Am I riddle, read the first line to your children and ask them to take a guess at what they think the answer might be. As the clue is that it's something that has a lid but which isn't a can of paint, they might guess that it's a cup of coffee, a box or a Tupperware container.
If they don't guess that an eye is the answer, read them the second clue and ask them to guess again. Keep going until they either guess correctly that the answer is an eye or they run out of clues.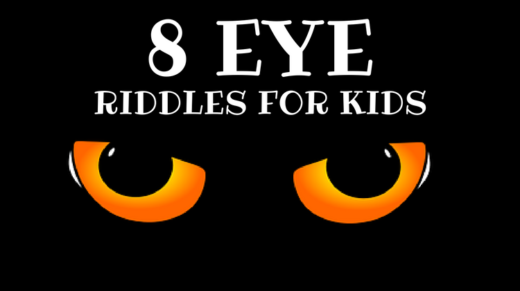 Eye Riddles For Kids
When getting someone's attention
This is what you might try to catch
And if you're a pirate at sea
It might be covered by a patch
~
This is something with a lid
But it's not a coffee mug
It's something with a socket
But it doesn't have a plug
~
I am a body part
But I am not a knee
I am found on your face
I'm what you use to see
~
Although it's not a curtain
This gets closed every night
So that you can go to sleep
It's what gives you your sight
~
These come in different colours
But they are not felt tip pens
To help these things work better
You might use a contact lens
~
This thing has some lashes
But it is not a whip
It's able to be closed
But it is not a zip
It's part of your body
But it is not a hip
There are two on your face
But it is not a lip
~
I'm closed at night, I give you sight
~
What Am I?
I have a lid but I'm not a can of paint
I have a lens but I'm not a camera
I'm in a socket but I'm not a plug
I have an iris but I'm not a bunch of flowers
I have lashes but I don't have a whip