We're publishing another set of animal riddles today, with this batch all having elephant as their answer.
The first five of these rhyme, while the sixth is a What Am I? riddle for kids.
With that final idea, read your children the first line and have them take a guess at what's being described.
If they're incorrect, read them the second clue and have them take another guess. Keep doing this until they realize that you're describing an elephant or until they run out of clues.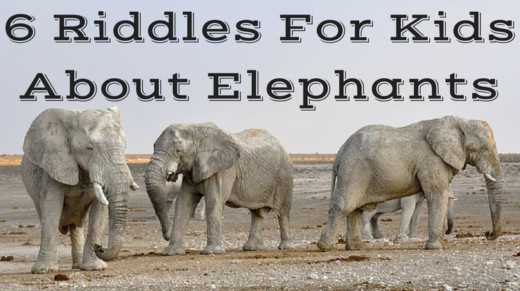 Elephant Riddles For Kids
I am a type of animal
But I'm not one which is furry
I have gray skin and a long trunk
And two tusks made of ivory
~
I'm an animal you might love
But I'm too big to be your pet
I have an extremely long trunk
And it's said I never forget
~
When there's a group together
Be careful of a stampede
They're a gray-skinned animal
Who use their long trunks to feed
~
Some are found in Africa
And some are found in India
They have trunks and skin that's gray
And big ears with which to hear
~
I am a large animal
Some might say I'm jumbo
I was once in a movie
Which had the name Dumbo
~
What Am I?
I'm gray but I'm not a cloud
I have a tail but I'm not a cat
I have big ears but I'm not a bunny
I'm tall but I don't play basketball
I'm jumbo but I'm not a jet
I have a trunk but I'm not a car