We have another set of geography riddles today with five where earthquake is the answer. These can therefore also be used with our other nature riddles.
The first four of these rhyme, with the word 'earthquake' completing the rhyme of the first one, while the fifth asks your children What Am I?
To use that last idea, read the first line to your kids and ask them to take a guess at the answer. As the clue says it's something that can move things but can't be seen, they might suggest that it's a ghost, the Invisible Man or something else.
If they don't guess that the answer is an earthquake, read them the clue on the second line and ask them to take another guess. Keep doing this until they either work out that it's an earthquake or they run out of clues.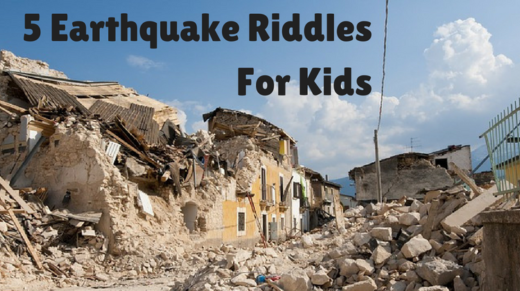 Earthquake Riddles For Kids
If you were standing still
And you felt the ground shake
There's a very good chance
That there was an _ _ _ _ _ _ _ _ _ _
~
If you feel one of these
Finding a safe place is a must
As the ground moving is caused
By vibrations in the Earth's crust
~
When there is a big one of these
You might also feel aftershocks
These seismic waves are caused by faults
And fractures in sections of rocks
~
This natural phenomena
Is caused by tectonic plates moving
It happens along a faultline
The Richter Scale measures this thing
~
What Am I?
I can move things even though I can't be seen but I'm not the wind
I shake but you can't drink me
I'm measured on a special scale but I don't weigh anything
I can knock down buildings but I'm not Godzilla
I'm the result of moving plates but I'm not an empty table
I'm caused by faults but no one has done anything wrong