We're continuing our series of geography riddles for kids today with five where the answer is the planet Earth.
The first four of them rhyme, with the fifth one being a What Am I riddle.
To use the final idea with your children, read them the clue on the first line and ask them to guess what they think the answer is.
As the clue says that it's something which is a sphere but not a soccer ball, they might suggest a snow globe, a Christmas tree decoration, a jawbreaker or any number of other things.
If they don't guess the correct answer, read them the clue on the second line and ask them to take another guess. Keep doing this until they either work out that the answer is Earth or they run out of clues.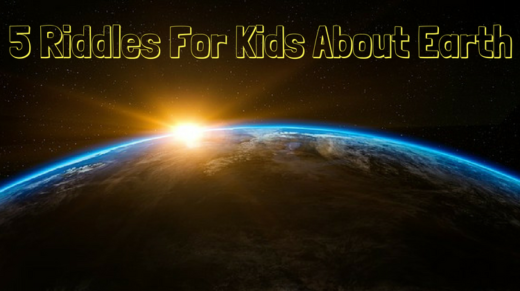 Earth Riddles For Kids
It spins at 1,000 miles per hour
Although it is not a fairground ride
At its center there is a molten core
And it has a crust on its outside
~
71% is water
And the rest of it is land
Some of that is made up of soil
And some of it's made of sand
~
What's the name of the planet
Which is third closest to the sun?
In terms of moons that it has
You will find there is only one
~
When looking at the solar system
This planet's between Venus and Mars
You won't see any flying saucers
But you can find people in their cars
~
What Am I?
I'm spherical but I'm not a soccer ball
I have a core but I'm not an apple
I have a crust but I'm not a loaf of bread
I have plates but food isn't served on me
I have a mantle but I'm not a fireplace
I'm mostly covered by water but I'm not an iceberg