Here are five riddles for kids where the answer is dice. These are therefore great for using with all our other game and toy riddles.
The first four of these are rhyming riddles, with the word 'dice' completing the rhyme of the fourth, while the fifth is a What Am I riddle.
To use that last riddle, read the clue on the first line to your kids and have them try guessing the answer. As the clue is that it's something that's rolled but which isn't a ball, they might guess that it's a rolling pin, a wheel or a barrel.
If they don't guess that some dice is the answer, read them the second clue and have them guess again. Keep going until they either guess that the answer is dice or they run out of clues.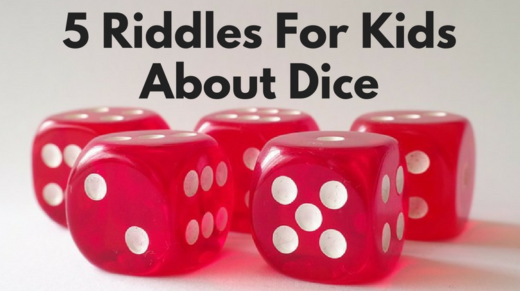 Dice Riddles For Kids
When you are playing a board game
I might be something that you hold
I am a cube that has some spots
You shake me and then I am rolled
~
You can play a game with this
Although it is not a doll
It has spots on its six sides
You hold it and then you roll
~
You often need one or two of these
In order to play a board game
They have spots on them and they get rolled
So can you tell me, what's their name?
~
I'm something that's a cube
But I'm not made of ice
I'm rolled to play a game
Which means that I am _ _ _ _
~
What Am I?
I'm rolled but I'm not a ball
I have several faces but I'm not a group of people
I'm covered in spots but I don't have acne
I'm sometimes blown on but I'm not hot
I'm a cube but I'm not made of ice