For the last few weeks we've been publishing a series of geography riddles which are written especially for kids.
That series continues today with four rhyming riddles that all have desert as their answer.
The first three of them can be used with younger children, while the fourth idea could be better to use with older children who might have heard of those deserts (although younger ones might be able to take a guess because they've heard of Sahara).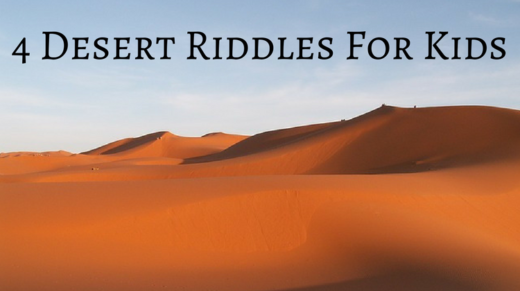 Desert Riddles For Kids
This type of place has a lack of rain
So it is a dry and arid land
The most famous one's the Sahara
Which is covered in a lot of sand
~
This word goes before 'island' to describe
A place where you might be shipwrecked alone
It is a barren area of land
Which might be covered in sand or by stone
~
I'm going to give you a riddle
So let's see if you can answer this
What has little rain and a lot of sand
Where you'd want to see an oasis?
~
This is an area with little rain
So you're unlikely to see many trees
Kalahari, Negev, Atacama
Gobi and Sahara – what are all these?