Today's set of riddles for kids all have a deck of playing cards as their answer.
These are therefore perfect for using our other game and toy riddles.
The first three of these are rhyming riddles, while the fourth asks What Am I?
To use the fourth idea, read the first clue to your children and get them to guess what they think the answer is. If they're not correct, read them the second clue and get them to take another guess.
Keep doing this until they either get the right answer or they run out of clues.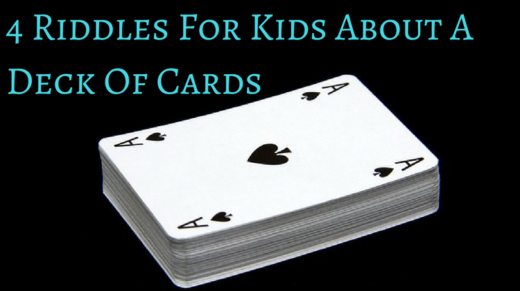 Deck Of Cards Riddles
This consists of fifty-two things
Half are black and half are red
Most have numbers or a letter
And the rest all have a head
~
This is used for many games
Like Go Fish, Snap and Poker
It contains four different suits
And sometimes there's a joker
~
If you're bored and have a set of these
There are many things that can be played
Each has a number, letter or head
And a diamond, club, heart or a spade
~
What Am I?
I have kings and queens but I'm not a chess board
I have 52 things in me but I'm not weeks in a year
I'm mostly red and black but I'm not Darth Maul
I have diamonds but I don't shine
I have aces but I'm not a tennis match
~
Don't miss out on more great riddles like these ones -
sign up here
to get our free riddles for kids emailed to you throughout the week.