Our series of plant and flower riddles continues today with four where the answer is a daisy.
The first three of these are rhyming riddles, with the word 'daisy' completing the rhyme of the first one.
The fourth is a What Am I riddle. To use that one, read the first line of it to your kids and have them take a guess at the answer.
As the clue is that it's someone in Thomas And Friends but who isn't Gordon, they might guess that it's James, Percy, Henry or one of the other characters.
If they don't guess that Daisy is the answer (as she's a more minor character), read them the clue on the second line and have them guess again. Keep doing this until they either guess the correct answer or they run out of clues.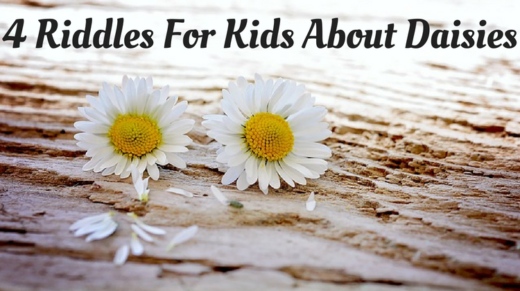 Daisy Riddles For Kids
This can be a female name
But this riddle will not drive you crazy
As it's also a flower's name
And can be a gerbera – it's a _ _ _ _ _
~
I am the youngest level of Girl Scouts
I'm a flower and a female's name
I'm a railcar in Thomas And Friends
And a Princess in a Mario game
~
She's a character in Thomas And Friends
But her name's not Emily I should stress
She also has the name of a flower
And in Mario games she's a Princess
~
What Am I?
I'm in Thomas And Friends but I'm not Gordon
I'm a Princess in Mario games but I'm not a peach
I'm a type of Girl Scout but I'm not a Brownie
I'm a girl's name but I'm not Emily
I'm a type of flower but I'm not a rose