Here are several riddles for kids where the answer is 'cranberry'.
These therefore work well with riddles from many of our other themes:
Most of these are rhyming riddles, with one of those being a 'fill in the blank' where the word cranberry completes the rhyme.
There's also a What Am I riddle at the end. With this, read the first line to your kids and see if they guess the correct answer. If they don't, read the second clue and have them guess again – keep going until 'cranberry' is guessed correctly.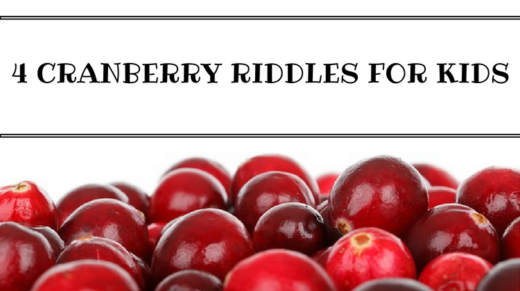 Cranberry Riddles For Kids
You'll eat this fruit with turkey
To help fill up your belly
It sometimes comes as a sauce
And sometimes it's a jelly
~
I go with turkey at Thanksgiving
When you eat, drink and be merry
I can also be made into juice
Which means that I am a _ _ _ _ _ _ _ _ _
~
I'm eaten at Thanksgiving
As part of the main course
I get added to your plate
In the form of a sauce
~
What Am I?
I'm red but I'm not a sports car
I'm a fruit but I'm not a strawberry
I grow on vines but I'm not a grape
I can be made into sauce but I'm not a tomato
I'm eaten with turkey but I'm not stuffing