Here are several riddles for kids where the answer is a cornucopia.
These therefore go well with many different riddle themes:
The first three cornucopia riddles rhyme, with the word 'cornucopia' completing the rhyme of the third one.
There's also a riddle that asks What Am I? If using this one, read the first line to your kids to see if they can guess the answer correctly. If not, read the second line's clue and let them guess again. Keep going until they get the correct answer or they run out of clues.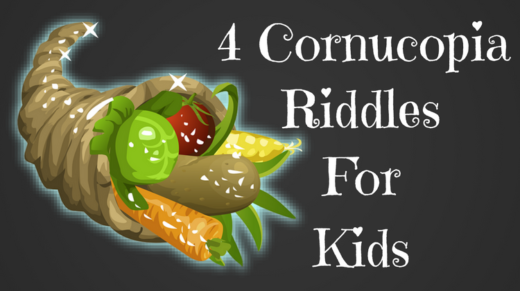 Cornucopia Riddles For Kids
You will need plenty of produce
To fill up this big food horn
Sweet potatoes, pumpkins and gourds
Apples, squashes and some corn
~
If you want to picture fall
Then this image would be best
It is a horn that is filled
With all the season's harvest
~
If you are hungry then a room
Filled with this item is utopia
Because there will be lots of food
Stuffed in this harvest _ _ _ _ _ _ _ _ _ _
~
What Am I?
I contain vegetables but I'm not a salad
I contain fruit but I'm not a fruit salad
I contain nuts but I'm not peanut butter
I have a horn but I'm not a car
I'm often associated with Thanksgiving but I'm not a turkey