We're continuing our series of metal riddles today with seven that all have gold as their answer.
Some of these riddles for kids can also be used with several of our other themes, such as those about colors, jewelry and sports.
The first six of them are rhyming riddles, with the seventh asking your children the question What Am I?
To use that last idea, read the clue that's on the first line to your children and have them guess the answer. As the clue is that it's something that is sometimes found in a pot but that isn't a stew, they might guess that it's a plant, soup or tea.
If they don't work out that you're referring to a pot of gold, read them the clue on the second line and have them guess again. Keep going until they either work out that the answer is gold or they run out of clues.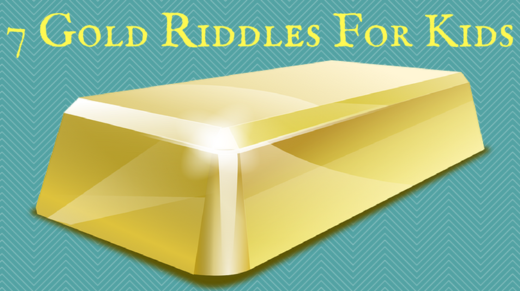 Gold Riddles For Kids
It is something very shiny
And is a valuable metal
If you win at the Olympics
It's the color of your medal
~
I'm sometimes made into a coin
And sometimes into an ingot
When at the end of a rainbow
I am what is inside the pot
~
Some people bite into it
But it is not a carrot
It is a precious metal
That's pure 24 karat
~
I'm in many types of jewelry
Like the chain of a necklace
In the tale of Rumpelstiltskin
He could spin straw into this
~
If you get this kind of medal
It means that you've done the best
I am the kind of coins you find
In a buried treasure chest
~
This has been known to cause a rush
But it's not a Black Friday sale
It's a yellow precious metal
Weighed in troy ounces on a scale
~
What Am I?
I'm sometimes found in a pot but I'm not stew
I can be a bar but I'm not soap
I've been known to cause a rush but I'm not a Black Friday sale
I'm a type of metal but I'm not tin
I can be a medal but I'm not silver
~
Don't miss out on more great riddles like these ones -
sign up here
to get our free riddles for kids emailed to you throughout the week.