We're continuing our series of fruit riddles today with six that all have coconut as their answer. These ideas can therefore also be used with all of our riddles for kids with a food theme.
The first four of these are rhyming riddles, the fifth is a one liner that also rhymes, while the sixth asks your children What Am I?
To use the What Am I riddle, read the clue that's on the first line to your kids and have them take a guess at what they think the answer will be. As the clue is that it contains water but isn't a bottle, they might guess that it's a swimming pool, a drinking glass or the ocean.
If they don't guess that the answer is a coconut, read them the second clue and ask them to take another guess. Keep doing this until they either work out that coconut is the answer or until they run out of clues.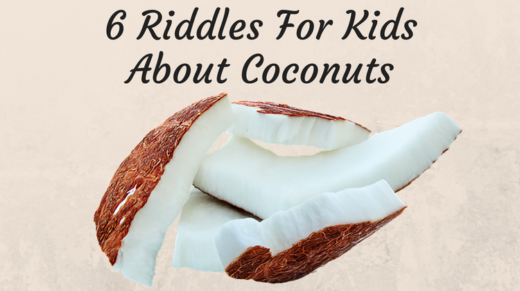 Coconut Riddles For Kids
This is a type of fruit
Whose outside's brown and hairy
It's white on the inside
And it comes from a palm tree
~
I've a brown shell on the outside
And my shape is an oval
However, I am not an egg
From a palm tree's where I fall
~
This is brown and fuzzy on the outside
And has a weight of two or three pounds
Its inside is white and has some water
And is used in Almond Joy and Mounds
~
This is a fruit that contains some water
And can provide milk and oil for cooking
If you ever want to see one growing
On a palm tree's where you should be looking
~
I am brown and hairy and grow on a palm tree
~
What Am I?
I contain water but I'm not a bottle
I can be used to make milk but I'm not a cow
I'm white on the inside but I'm not a loaf of bread
I have a husk but I'm not a head of corn
I have a hard shell but I'm not an egg
I'm brown and hairy on the outside but I'm not a dog