Here are five riddles for kids where the answer is a coat. These are therefore ideal for using with all of our other riddles about clothes, fall and winter.
The first four of these riddles rhyme, with the word 'coat' completing the rhyme of the fourth, while the fifth asks your kids What Am I?
To use that fifth idea, read the first line to your children and have them take a guess at what they think the answer might be. As the clue is that it's something that's used when it's cold but which isn't a fire, they might guess that it's a scarf, a blanket or a heater.
If they don't guess that a coat is the answer, read them the clue that's on the second line and ask them to try guessing again now that they have some additional information. Keep doing this until they either realize that the answer is a coat or they run out of clues.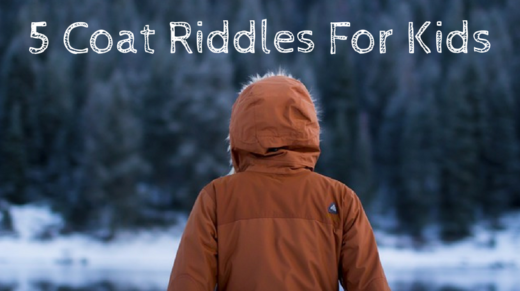 Coat Riddles For Kids
I'm sometimes made of fur
And sometimes made of leather
I am what you might wear
When outside there's cold weather
~
This is something that you wear
But it isn't a backpack
It has sleeves and keeps you warm
And might get hung on a rack
~
This is an item of clothing
You might start wearing in the fall
This also has the same name as
A layer of paint on a wall
~
Although this thing might get wet
It's not something that will float
It protects you from the rain
It has sleeves, it's a _ _ _ _
~
What Am I?
I'm used when it's cold but I'm not a fire
I sometimes have buttons but I'm not a portable heater
I sometimes have a hood but I'm not a car
I have sleeves but I'm not a shirt
I might get hung on a rack but I'm not a hat