Our series of weather riddles continues today with four that all have the answer 'cloud'.
The first three of them are rhyming riddles for kids, while the fourth asks the question What Am I?
To use that fourth riddle, read your children the clue on the first line and have them guess the answer.
As the clue is that it's something fluffy which isn't a bunny, they might guess that it's a cotton ball, a marshmallow, a stuffed toy or one of many other fluffy things.
If they don't guess that the answer is a cloud, read them the second clue and have them take another guess. Keep going until they either guess that cloud is the answer or they run out of clues.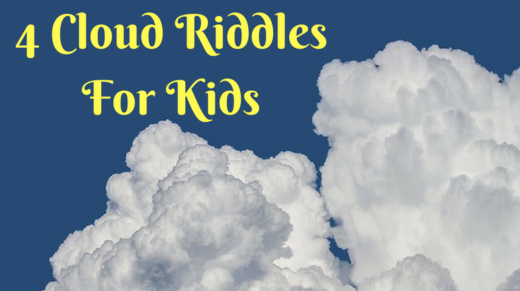 Cloud Riddles For Kids
You see one when a nuclear bomb is dropped
Or after the eruption of a volcano
But it's the weather that creates most of them
Which sometimes then drop some rain, hail, sleet or snow
~
What are all of these things being described:
Cumulus look soft and fluffy in form
Stratus has layers and cirrus is thin
Cumulonimbus is seen in a storm
~
This is something you see in the sky
You'll need more hints though so I'll explain
It's sometimes fluffy and sometimes gray
And can release snow, hail or rain
~
What Am I?
I'm sometimes fluffy but I'm not a bunny
I can be a mushroom but I'm not eaten
I can drop water on you but I'm not a shower
I'm in the sky but I'm not a bird
I can cover the sun but I'm not the moon