For the last month, we've been publishing a series of household item riddles. We're continuing that series today and moving from the kitchen to the bedroom with a set of riddles where the answer is a closet.
The first four of these are rhyming riddles, with the word 'closet' completing the rhyme of fourth.
The fifth of these is a What Am I riddle. To use that one, read the first line of it to your kids and ask them to guess what they think the answer might be.
As the clue is that it's something which has a door but which isn't a car, they might try guessing that it's a cupboard, a room or an airplane.
If they don't guess that a closet is the answer, read them the clue on the second line and ask them to take another guess. Keep going until they either guess that the answer is a closet or they run out of clues.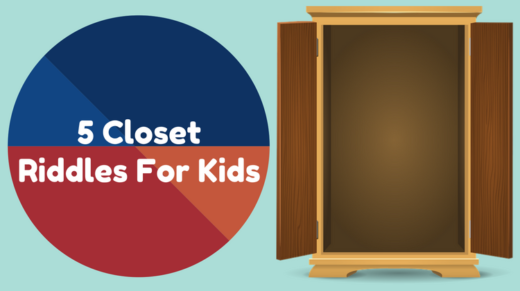 Closet Riddles For Kids
This is where items can be stored
So your bedroom's not a mess
It's also where things get hung up
Like shirts, jackets or a dress
~
I am something in your house
Although I am not a cup
I am found in your bedroom
I'm where your clothes get hung up
~
This can be found in your house
But it's not a breakfast tray
It's where clothes and other things
Can be neatly stored away
~
This is something that's in your house
It's where your clothes you might deposit
It's good for storing other things
It's in a bedroom – it's a _ _ _ _ _ _
~
What Am I?
I have a door but I'm not a car
I have things hanging inside me but I'm not a gallery
I store things but I'm not a shed
I'm in your house but I'm not a bathroom
I contain clothes but I'm not a washing machine