Here are several riddles for kids that have the answer 'cauldron'.
These can therefore be used with many different types of other riddle themes, such as:
The first few riddles rhyme, while the final one asks the question What Am I?
To use the last riddle, read the first line of it to your children and have them guess what they think the item is.
If they guess incorrectly, read out the second clue and get them to guess again. Keep going until your kids either work out that the answer is cauldron or they run out of clues.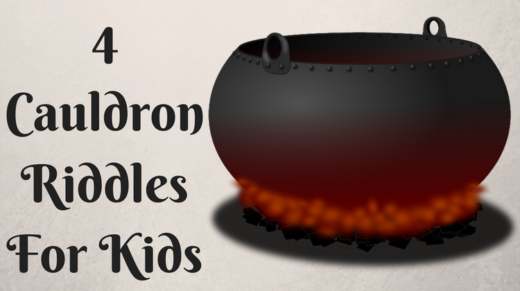 Cauldron Riddles For Kids
Eye of newt and toe of frog
Wool of bat? Just a spot
These are all what witches brew
Inside this big black pot
~
If you were a wicked witch
Wanting to cast a spell on a royal
You would need this big black pot
And lots of animal parts to boil
~
Every witch needs one of these
If she is to cast a spell
It's what she makes her brew in
That gives off an awful smell
~
What Am I?
I'm black but I'm not a puma
I'm made of metal but I'm not a gun
I'm placed over fire but I'm not a grill
I have things brewed in me but I'm not a coffee pot
I'm used by witches but I'm not a broomstick