We're currently running a series of riddles for kids with a food theme, with today's bunch having an answer of 'carrots.'
The first five of these are rhyming riddles, while the sixth asks What Am I?
To use the final idea, read the first line to your child and see if they can guess the right answer. If not, read them the second clue and have them guess again.
Keep going until they realize that you're describing a carrot or until they run out of clues.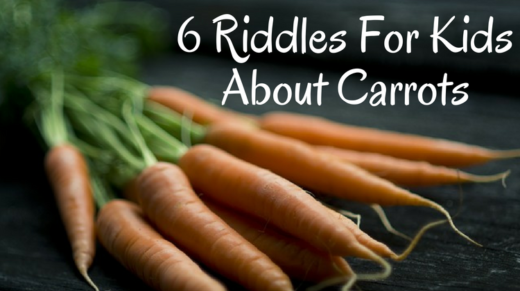 Carrot Riddles For Kids
Buying this vegetable
Doesn't cost much money
It is the favorite food
Of the great Bugs Bunny
~
A scarf's around a snowman's neck
Each eye is a coal or pebble
He has two branches for his arms
And his nose is this vegetable
~
You can drink this vegetable juice
But it is not a tomato
It's something which can be peeled
But it is not a potato
~
I am orange and long
And I come in a bunch
I can be in a cake
Or be eaten at lunch
~
Rabbits like to eat me
When I grow in a field
This orange vegetable
Tastes best when it is peeled
~
What Am I?
I'm sometimes a baby but I don't cry
I can be a type of cake but I'm not chocolate
I'm a vegetable but I'm not broccoli
I can be peeled but I'm not a potato
I'm orange but I'm not an orange
I'm found on a snowman but I'm not a scarf
~
Don't miss out on more great riddles like these ones -
sign up here
to get our free riddles for kids emailed to you throughout the week.