We're continuing our series of household item riddles today with five where a candle is the answer.
The first four of these rhyme, with the word 'candle' completing the rhyme of the fourth one.
The fifth of these is a What Am I riddle. To use that idea, read the first line to your children and ask them to try to guess what they think the answer might be. As the clue is that it's something that gets blown but which isn't a bubble, they might guess it's a nose, balloon, hair or even your mind!
If they don't guess that it's a candle, read them the clue on the second line and have them take another guess now that they have some additional information. Keep going until they either work out that the answer is a candle or they run out of clues.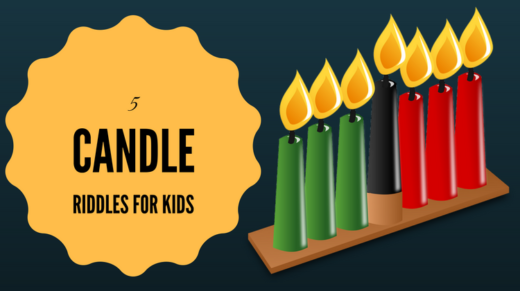 Candle Riddles For Kids
This is something that gives light
But it is not a sun ray
It is what you will blow out
On a cake on your birthday
~
I am often long and thin
And get held inside a stick
My outside is made of wax
And inside there is a wick
~
This is found on a birthday cake
But it's not something you bite
When one's in a small metal cup
It is known as a tealight
~
I am something in the house
But I'm not a door handle
I'm made of wax and get lit
Which means that I'm a _ _ _ _ _ _
~
What Am I?
I get blown but I'm not a bubble
I get shorter the more I'm used but I'm not a pencil
I'm made of wax but I'm not a crayon
I can help you see in the dark but I'm not a flashlight
I'm often found on a birthday cake but I'm not icing