Here are some riddles for kids where the answer is candied yams.
If you're wanting to put together a group of riddles for a game or activity, these therefore work well with many of our other themes, such as:
There are a couple of riddles that rhyme, as well as a What Am I riddle.
With the latter, read the first line to your kids to see if they can work out the answer. If they don't, read them the second clue and have them guess again – keep going until they guess that the answer is 'candied yams' or they run out of clues.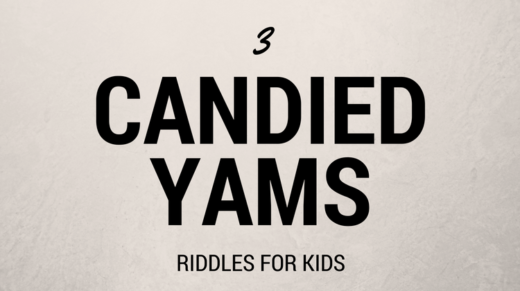 Candied Yams Riddles For Kids
This is a tasty side dish
Everyone will want to chow down
It's made of sweet potatoes
Marshmallows and sugar that's brown
~
If you like sweet side dishes
This will make you a happy fellow
As it has sweet potatoes
As well as sugar and marshmallow
~
What Am I?
I'm soft but I'm not a pillow
I'm sweet but I'm not a muffin
I contain a vegetable but I'm not carrot cake
I contain marshmallows but I'm not a Rice Krispie treat
I'm a Thanksgiving food but I'm not pumpkin pie