Here are five riddles for kids where a butterfly is the answer, so they're great for using with our other insect and nature riddles.
The first four of them are rhyming riddles, with the word 'butterfly' completing the rhyme of the fourth one.
The fifth of these is a What Am I riddle. To use that idea, read your children the clue that's on the first line and ask them to take a guess at what they think the answer might be. As the clue is that it's something that has scales but which doesn't measure weight, they might guess that it's a fish or a snake.
If your kids don't guess that the answer is a butterfly, read them the second clue and have them take another guess. Keep doing this until they either work out that a butterfly is the answer or they run out of clues.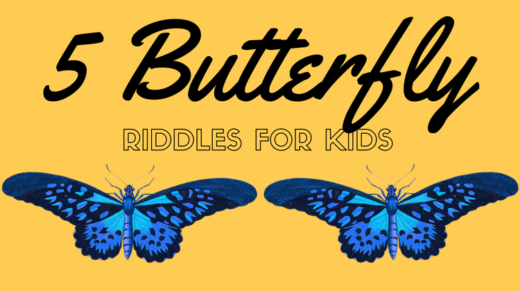 Butterfly Riddles For Kids
This part of nature gets transformed
But it's not summer becoming fall
It starts as a caterpillar
But emerges with wings colorful
~
I am a type of insect
But one that is beautiful
I look just like a large moth
But one that is colorful
~
It starts off as a caterpillar
And then it becomes a chrysalis
Then later it has colorful wings
Once it's gone through metamorphosis
~
I am a type of insect
You might see flutter by
I have wings so colorful
I am a _ _ _ _ _ _ _ _ _
~
What Am I?
I have scales but I don't measure weight
I'm an insect but I'm not a cockroach
I feed on nectar but I'm not a bee
I'm colorful but I'm not a rainbow
I flutter but I'm not a hummingbird