Our series of riddles for kids with a school theme continues today with a few where the answer is a bulldog clip.
The first two are rhyming riddles while the third asks What Am I? To use that third riddle, read its first line to your kids and ask them to guess what they think it is that's being described.
As it's something that's silver colored, they may guess silverware, a car, a shelving unit or any number of other objects.
If they don't guess that it's a bulldog clip, read them the second line and ask them to take another guess. Keep doing this until they either guess correctly or they run out of clues.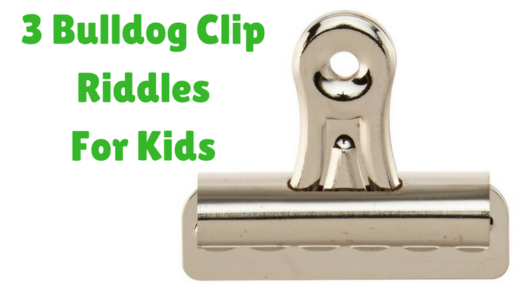 Bulldog Clip Riddles
Despite my name
I do not bite
Having said that
I grip things tight
~
I can often be found on a desk
Its first word is a canine breed
I'm silver colored and hold paper
If a tight grip is what you need
~
What Am I?
I'm silver colored but I'm not a piece of jewelry
I have a tight grip but I don't shake your hand
I'm found on a desk but I'm not a stapler
I hold paper together but I'm not a paper clip
I have a canine breed as my first word but I'm not a Greyhound bus