Here are five riddles for kids where the answer is bones. These are therefore perfect for using with many of our other riddle themes such as anatomy, the human body and Halloween.
The first four of these are rhyming riddles, while the fifth asks your kids What Am I?
To use that fifth idea, read the clue that's on the first line to your children and ask them to take a guess at what they think the answer could be. As the clue is that it's something white but which isn't a sheet of paper, they might guess that it's a snowman, milk or a slice of bread.
If they don't guess that bones are the answer, read them the second clue and ask them to take another guess. Keep doing this until they either correctly guess that the answer is bones or they run out of clues.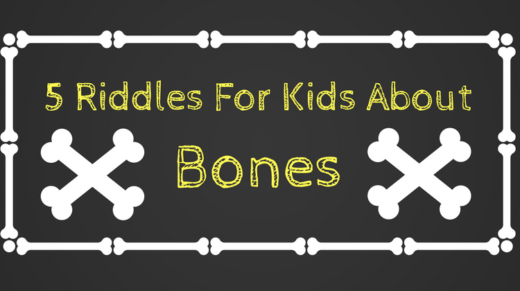 Bones Riddles For Kids
Vertebrae and ribs
Skull and phalanges
Femur and sternum
What are all of these?
~
Your body has lots of these
Including the tibia
Several are in your spine
And there's three in your ear
~
You will find 206
Inside adult human bodies
Together they're a skeleton
Ligaments connect all of these
~
These are a part of your body
Sometimes they're large, sometimes they're little
They're white and they can be broken
And in some people they are brittle
~
What Am I?
I'm white but I'm not a sheet of paper
I come in different shapes and sizes but I'm not a snowflake
I can be broken but I'm not a window
I can be brittle but I'm not peanut butter
I'm sometimes humerus but I'm not funny