Here are nine riddles for kids where the answer is a bee. These are therefore perfect for using with our other nature and insect riddles.
The first seven of these are rhyming riddles, with the word 'bee' completing the rhyme of the seventh.
The eighth is a one line riddle that has an internal rhyme, while the ninth and final riddle asks your kids What Am I?
To use that last idea, read the first line of it to your children and have them take a guess at what they think the answer might be. As the clue is that it's something that can fly but which isn't a helicopter, they might guess that it's an airplane or a bird.
If they don't guess that a bee is the answer, read them the clue that's on the second line and ask them to take another guess now that they have some additional information. Keep going until they either guess correctly that the answer's a bee or they run out of clues.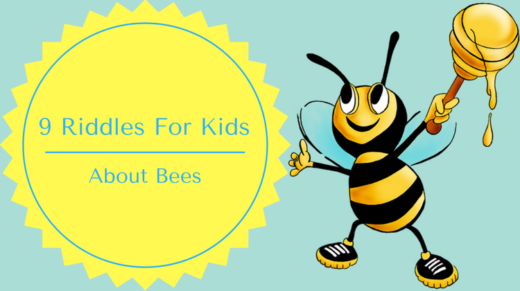 Bee Riddles For Kids
I am an insect
A hive is my home
I eat some pollen
To make honeycomb
~
This is a flying insect
In a hive it might be seen
Its workers go get pollen
To take it back to their queen
~
I'm a yellow and black insect
But to say I'm a wasp would be wrong
I am something that makes honey
And you might see me bumble along
~
This is something that can be a queen
It is yellow and black and has wings
It can be sweet as it makes honey
But when defending itself it stings
~
I am something that flies
And I am an insect
I make a buzzing noise
And can sting to protect
~
This has a head and tail
But it is not money
It is a flying insect
That helps to make honey
~
I'm an insect that can fly
And many say I'm busy
I often live in a hive
I make honey – I'm a _ _ _
~
I buzz and have wings and my tail stings
~
What Am I?
I can fly but I'm not a helicopter
I'm an insect but I'm not an ant
I'm yellow and black but I'm not a butterfly
I can sting but I'm not a wasp
I can often be found near honey but I'm not Winnie The Pooh