Our series of riddles for kids about things that can be found around the house continues today with five where the answer is a bedroom. These are therefore ideal for using with all of our other room riddles.
The first four of these are rhyming riddles, with the word 'bedroom' completing the rhyme of the fourth riddle.
The fifth of these asks your children What Am I? To use that one, read the first line to your children and have them guess the answer. As the clue is that it's something that's used at night but which isn't a flashlight, they might guess that it's a pillow, earplugs or a toothbrush.
If they don't guess that a bedroom is the answer, read them the clue on the second line and have them take another guess now that they have additional information. Keep doing this until they either guess that the answer is a bedroom or they run out of clues.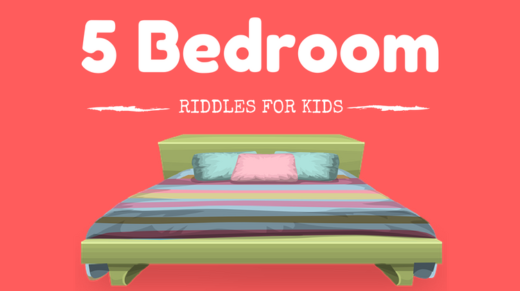 Bedroom Riddles For Kids
This is somewhere in the house
Where most of your clothes you keep
You go in here every night
When it's time to go to sleep
~
I'm an area of the house
Which is where every night you go
As it is where you go to sleep
And rest your head on a pillow
~
Every house has at least one
Of that you can be quite certain
Because it is where you sleep
It often has a dark curtain
~
You spend hours in this every day
But it isn't a school classroom
Instead it is where you go to sleep
Which means that it is your _ _ _ _ _ _ _
~
What Am I?
I'm used most at night but I'm not a flashlight
I contain sheets but I'm not a binder
I have a door but I'm not a closet
I have a bed but I'm not a garden
I'm an area of the house but I'm not a kitchen