Our series of riddles for kids about household items is continuing today with five where the answer is a bed. These are therefore great for using with all of our other furniture and bedroom riddles.
The first four of these rhyme, with the word 'bed' completing the rhyme of the fourth one.
The fifth of these is a What Am I riddle. To use that one, read the first line to your kids and ask them to guess the answer. As the clue is that it's something that has a base but which isn't a baseball field, they might guess that it's the military, a cheesecake or a mountain.
If they don't guess that a bed is the answer, read them the clue on the second line and ask them to take another guess. Keep going until they either guess that the correct answer is a bed or they run out of clues.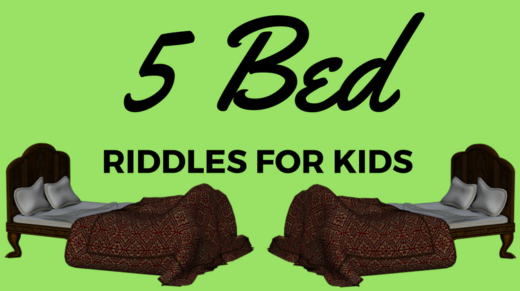 Bed Riddles For Kids
This is something with a base
That's often called a box spring
It's a piece of furniture
A room's named after this thing
~
Although I'm not royalty
I am often a queen or king
When it gets dark every night
It's on me people are sleeping
~
This is a piece of furniture
There's a room named after this
It's something that's used every night
Because it has a mattress
~
The answer to this riddle
Is somewhere that you lay your head
The answer's not a pillow
But what it sits on – it's a _ _ _
~
What Am I?
I have a base but I'm not a baseball field
I have sheets but I'm not a binder
I'm sometimes a king but I don't have a crown
I'm used every night but I'm not a light
I have a room named after me but I'm not a bath