Here are eight riddles for kids where sand is the answer. These ideas are therefore perfect for using with our other beach and nature riddles.
The first six of these are rhyming riddles, with the word 'sand' completing the rhyme of the sixth. The seventh is a one line riddle, while the eighth and final riddle asks your children the question What Am I?
To use that idea, read the first line to your children and have them take a guess at the answer. As the clue is that it's something that's small but which isn't a hamster, they might guess that it's a coin, an eraser or a grape.
If they don't guess that the answer is sand, read them the clue that's on the second line and ask them to take another guess. Keep doing this until they either guess that sand is the answer or they run out of clues.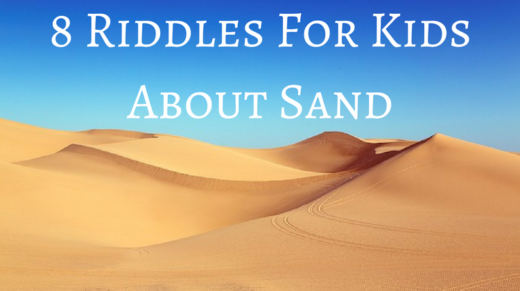 Sand Riddles For Kids
This can be found on a golf course
But it is not a blade of grass
Instead it's something that's grainy
And is found in an hourglass
~
You might find this on the ground
But it isn't dirty mud
It is sometimes put in bags
To protect against a flood
~
I am something that's so small
Lots of me fits on a teaspoon
You can see me on a beach
And I am what makes up a dune
~
To answer this riddle
You don't need to be brainy
Just name what's on the beach
It's the stuff that is grainy
~
I'm made into a castle
Although I am not a brick
I might get into your food
If you have a beach picnic
~
Thousands of pieces of this stuff
Can be held in the palm of your hand
It's something you find on the beach
Which means that the answer is some _ _ _ _
~
If you take a photo of this at the beach, it might look quite grainy.
~
What Am I?
I'm small but I'm not a hamster
I'm found on a golf course but I'm not a golf ball
I'm a natural material but I'm not a blade of grass
I can be made into a castle but I'm not a brick
I'm grainy but I'm not an old photograph