For the last few weeks we've been publishing many different riddles where the answers are all household items and more specifically things that you would find in a bathroom.
We're bringing that series to an end for now with today's set of riddles for children which all have 'towel' as their answer.
The first three of these are rhyming riddles, the fourth is a one-liner and the fifth asks What Am I?
To use that fifth idea, have your kids read the first line and attempt to guess what's being described. If they're incorrect, have them move on to the second clue and take another guess.
They should keep going until they either work out that the answer is towel or they run out of clues.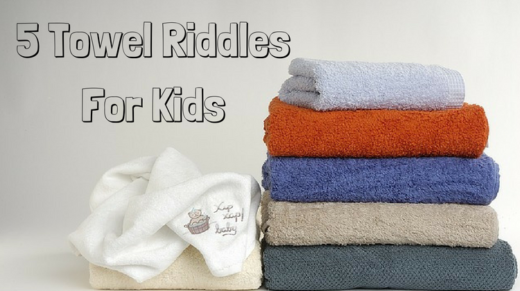 Towel Riddles For Kids
You always make me get wet
But not because you make me cry
It is because my purpose
Is to ensure that you get dry
~
You always bring me to the beach
So you don't have to lay on the sand
Then once you've been in the water
With drying you, I help lend a hand
~
You use this every day
Many times I would bet
The more that you get dry
The more that it gets wet
~
I can be used to dry any tears that you cry
~
What Am I?
I'm rectangular but I'm not a kitchen table
I'm usually made of cotton but I'm not a T-shirt
I absorb water but I'm not a sponge
I'm sometimes used at a beach but I'm not a bucket
I'm found in a bathroom but I'm not a toothbrush