We're finishing our series of food riddles for now, with today's bunch all having the answer of 'banana.'
These are therefore also good to use if you're looking for some riddles specifically abut fruit.
The first three of these are rhyming riddles, while the fourth is a What Am I? riddle.
With that fourth option, read the first line of it to your kids and get them to take a guess at what it is that's being described.
If they're not right, move on to the second clue and have them guess again. Keep going until they correctly guess 'banana' as the answer, or until they run out of clues.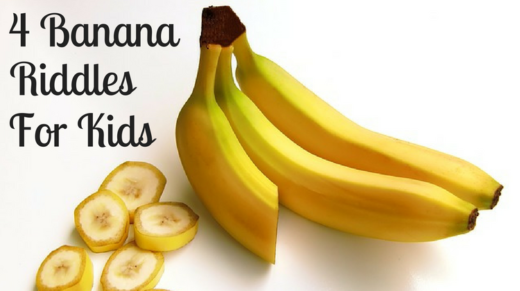 Banana Riddles For Kids
My color is yellow
And I grow on trees
I'm a popular food
With apes and monkeys
~
I am a yellow fruit
That you might eat at lunch
When there's a group of me
We are known as a bunch
~
I am a fruit that's curved
Although I am not round
Don't slip up on my skin
If it's dropped on the ground
~
What Am I?
I can be split but I'm not a check in a restaurant
I get peeled but I'm not a potato
I grow on trees but I'm not an orange
I'm yellow but I'm not a lemon
I'm curved but I'm not a boomerang