Here are seven riddles for kids where the answer is a telescope, so they're great for using with our other science, space and astronomy riddles.
The first five of these are rhyming riddles, while the sixth is a one line riddle which also has an internal rhyme.
The last of these is a What Am I riddle. To use that one, read the clue that's on the first line to your children and have them take a guess at what they think the answer might be. As the clue is that it's something you can look through but which isn't a window, they might guess that it's a camera or a pair of sunglasses.
If they don't guess that a telescope is the answer, read them the second clue and ask them to take another guess. Keep doing this until your kids either work out that the answer is a telescope or they run out of clues.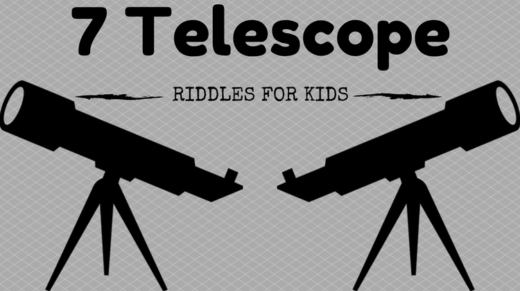 Telescope Riddles For Kids
When looking at the night sky
You're able to see the moon
But you might need to use this
If you want to see Neptune
~
Although I'm not a window
I am something you look through
I'm often on a tripod
Things in space I help you view
~
If you put your eye to this
It can help you to see far
It helps you to see planets
The moon or even a star
~
This is something you can look through
Although it's not a bubble
There is a large one out in space
Which has the name of Hubble
~
I'm often on a tripod
As I need a steady base
You look through me at the sky
For a good look into space
~
I can help you see far like the moon or a star
~
What Am I?
I can be looked through but I'm not a window
I have your eye pressed to me but I'm not a door peephole
I'm often placed on a tripod but I'm not a camera
I help you see things that are far away but I'm not a pair of binoculars
I'm often pointed at the sky but I'm not a satellite dish