Here are four riddles for kids where the answer is a zebra, so these are all great for using with our other nature and animal riddles.
The first three of these are rhyming riddles, while the fourth is a What Am I riddle.
To use that final idea, read the clue that's on the first line to your children and ask them to take a guess at what they think the answer could be. As the clue is that it's something that's black and white but which isn't a newspaper, they might guess that it's a salt and pepper shaker, a barcode or a penguin.
If they don't guess that a zebra is the answer, read them the clue that's on the second line and have them take another guess now that they have some extra information. Keep going until they either work out that the answer is a zebra or they run out of clues.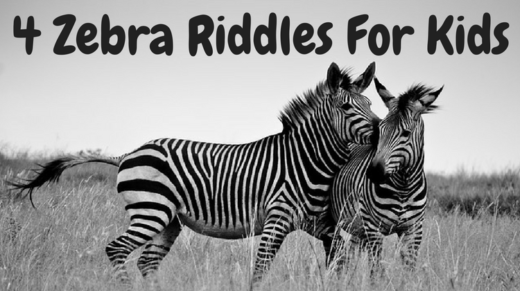 Zebra Riddles For Kids
This is something black and white
But it's not an old TV
It's a type of animal
That starts with the letter Z
~
I am a type of animal
You might see on a safari
I'm covered in black and white stripes
I'm part of the horse family
~
This thing has black and white stripes
But it isn't a barcode
It is something with four legs
But it's not a slimy toad
~
What Am I?
I'm black and white but I'm not a newspaper
I have stripes but I'm not a prisoner uniform
I have a unique pattern but I'm not a barcode
I have four legs but I'm not a skunk
I'm part of the horse family but I'm not a donkey