Here are 28 one line riddles for kids where the answers are all kinds of different items.
We've also produced a free printable worksheet for your children to complete – click on the blue button at the bottom of the page to get your copy.
The third page of the worksheet contains the answers, so don't give that page to your kids!
If your kids enjoy trying to answer these, we have many more one line riddles and printable worksheets for them to work on.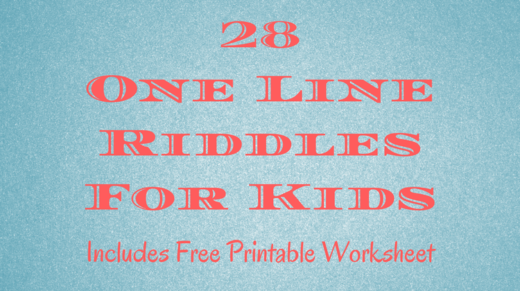 28 One Line Riddles For Kids
1) Water
I'm liquid and I flow, I'm made of H2O
2) Guitar
This is something with six strings and music is what it brings
3) Hospital
If you are feeling sick get to this building quick
4) Socks
It's something that comes in twos, it's worn on feet in your shoes
5) Leaf
Out in nature I can be seen, I don't fall from an evergreen
6) Key
To open a door you can knock or use this item to unlock
7) Light Bulb
Over your head I appear when you have a great idea
8) Star
I am a shape you see atop a Christmas tree
9) Eye
I'm closed at night, I give you sight
10) Bee
I buzz and have wings and my tail stings
11) Sofa
This thing can sit two or three while you all watch TV
12) Mistletoe
When you stand under this, then you will get a kiss
13) Rhinoceros
Africa's where I was born, on my head I have a horn
14) Potato
I'm peeled and have eyes and I'm made into fries
15) Mirror
It would be correct to say this does reflect
16) Easter Bunny
I'm something hopping round dropping eggs on the ground
17) Snow
This type of winter precipitation always has a unique variation
18) Witch
I like to do magic and ride on a broomstick
19) Shoes
These are things with laces, you wear them to places
20) Tree
Deciduous or evergreen, in a forest is where I'm seen
21) Hand
It's attached to your wrist and it can make a fist
22) Microscope
When I'm used with a slide things can be magnified
23) Window
I help to keep out rain and I'm always a pane
24) Television
I am something with a screen on which your shows can be seen
25) Foot
Your body has two, it's put in a shoe
26) Scissors
Of these you will need a pair if you want to cut some hair
27) Telescope
I can help you see far like the moon or a star
28) Cat
This is a feline whose lives can reach nine